Special fabrics for special occasions:
For most people, the color, design, and print are very important when picking out a dress for a special occasion. The thing is, people don't look at the fabric used to make the outfit. They won't choose the best, especially if it is more expensive than the rest.  For one, the fabric of your clothe will determine the look and durability of your dress. As long as the color of the dress complements your skin and the fabric your body type, you don't have anything to worry about. If you want to look classy, elegant, chic, sophisticated and fashion forward then choosing the right fabric is crucial. 
The following fabrics will help you pick out the perfect outfit:
1. Velvet fabrics material:-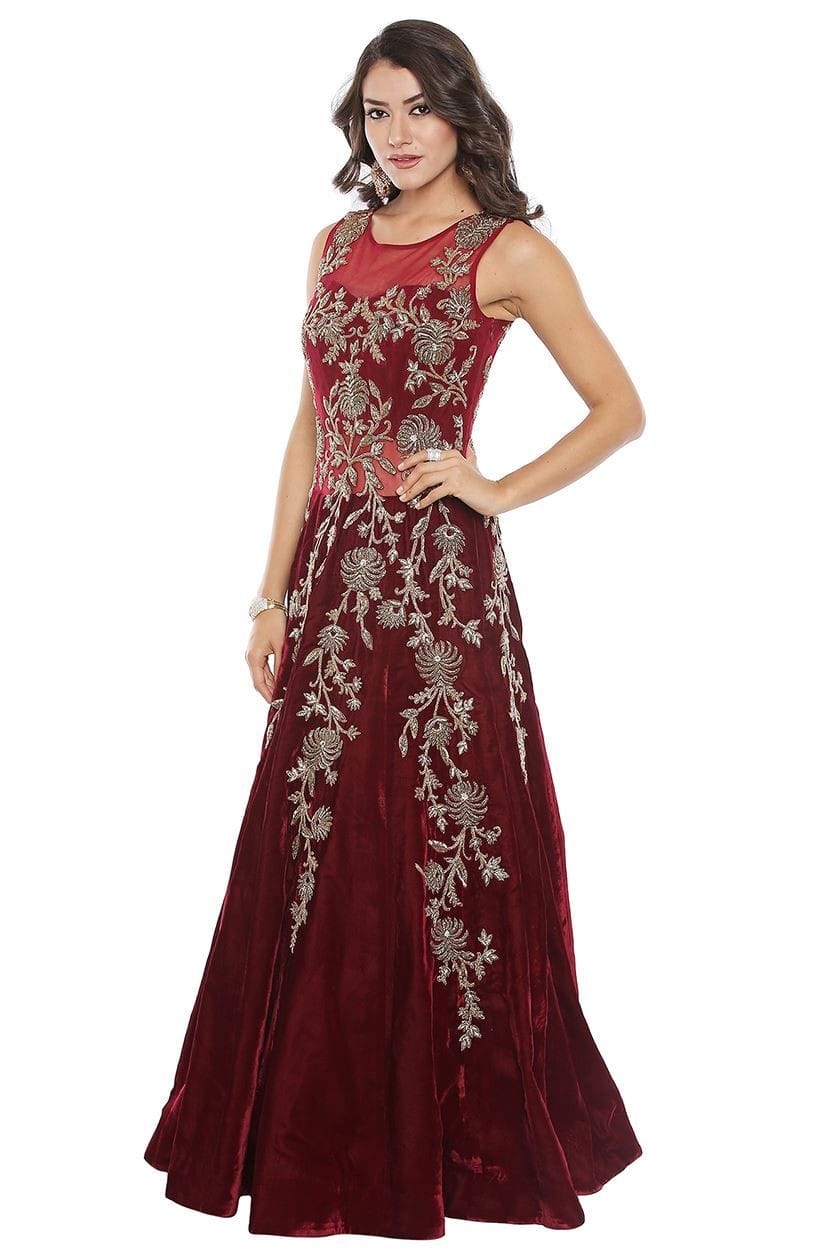 Velvet has been worn to traditional and cultural events for centuries. This fabric has a shine that makes the color pop and brings out a sophisticated feminine look.  Velvet also has a strong sheen and shimmery look that makes your outfit perfect for evening and night occasion. Outfits made of velvet are strong and long lasting while creating a soft and chic drape at the same time.  Unlike most fabrics, velvet has a soft and silky touch despite its rough and complex look. It is very comfortable and suitable for any type of weather. 
Simple ethnic dresses like the Lehenga and Anarkali look perfect in velvet. Designers make it in a short but dense pile, perfect for special evening occasions. Velvet has become a favourite to make modern, classy and sophisticated dresses for both contemporary and urban events.  Velvet dresses pair well with classy block and pointed heels. Don't forget to add a contrasting cover up and shiny jewelry to complete the look.
2. Georgette fabrics material:-
Georgette is famous for bouncy traditional and ethnic looks. It is made from both organic and synthetic materials but preferably silk.  It also has a dry texture that is crinkly and crepe but that won't stop your outfit from flowing and having a bouncy drape. 
This material is perfect for a tight gripping outfit and it will last for several years. In India, georgette is popular, especially for evening wear.  Like other strong materials, it has a crepe texture that is created from tightly woven yarn. This is what makes this material very strong and long lasting.  I like this material because it holds up applications like embellishments and embroideries well. If you like traditional attire, this material will hold up beads and sequins to make it look unique, sophisticated, elegant, stylish and classy. It has creases resistant nature that makes it look elegant all day long giving you a graceful and fashionable vibe.
For saree, silk georgette and polyester are commonly used. Silk georgette gives your saree a natural sheer radiance for a perfect evening glow. The best part is, the strong material has very high retention and will last you for a long time.  Although it may not look smooth, silk georgette is soft, strong but very lightweight at the same time. Georgette is very common in traditional attire like the saree, dupatta, choli, chiffon, and bridal lehenga. Get yourself a perfect georgette saree from Stylecaret for a stylish dress tonight and high fashion event.  
3. Chiffon fabrics material:-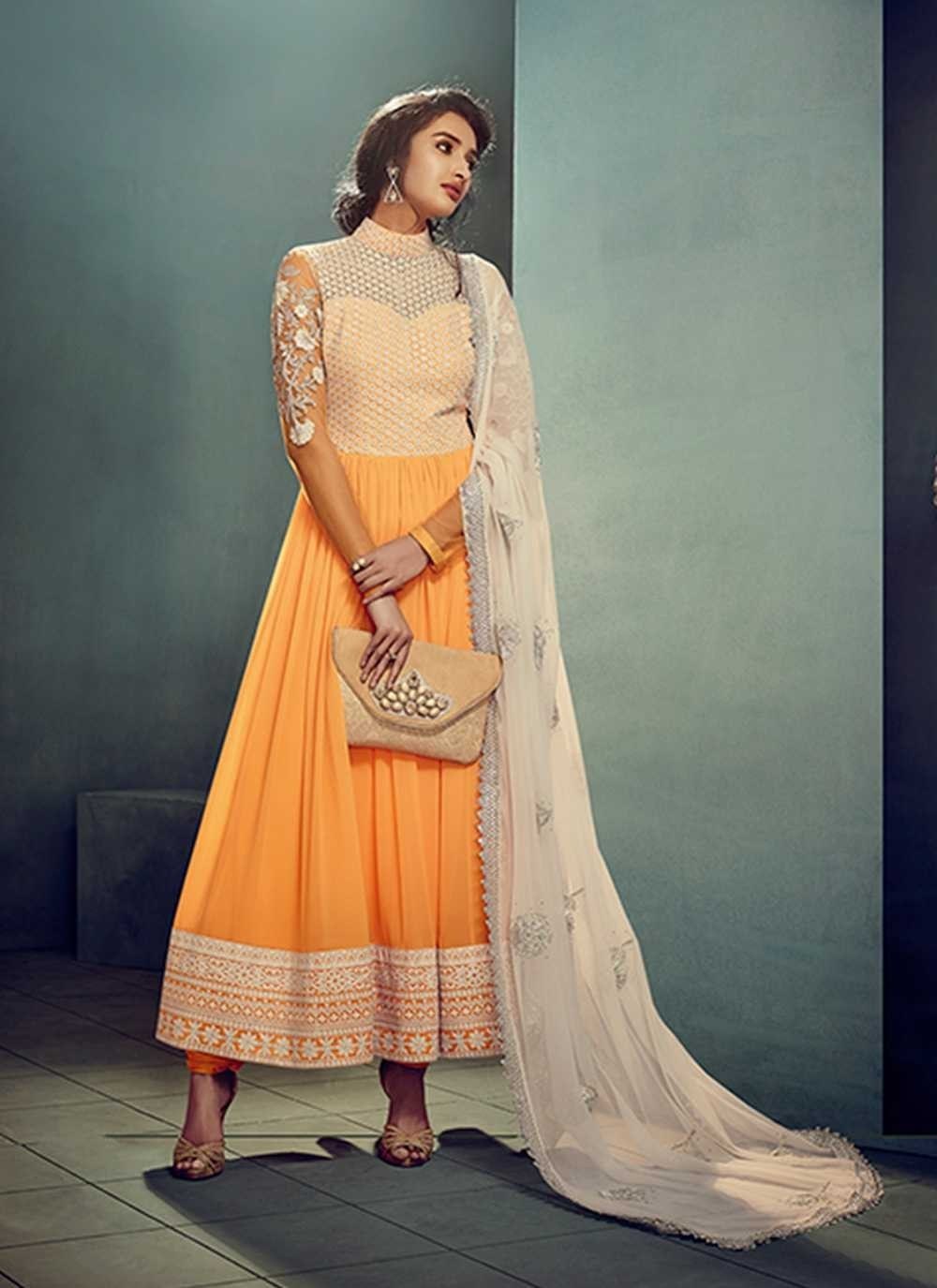 Chiffon is characterized by a light material that creates a soft drape. It comes in several colors and designs. It can be designed from various fabrics including silk, cotton,, rayon and other synthetic fibers. For those summer nights, this lightweight fabric will give you a cool breeze while still looking elegant and classy enough for any evening events. Chiffon drapes and gathers well to create the perfect look; many people love the soft and unique feel of the material. 
The silk chiffon has been worn in traditional wear for a long time. Traditionally, it is made by twisting silk yarn and making it transparent and tight.  This is why most chiffon fabrics look thin and drape easily. For designers, this might be one of the hardest materials to work with. For a day at the beach, you can wear a kurti kimono over your swimsuit. Special occasions like dinners or dates are the perfect time to wear a chiffon anarkali or kurti dress paired with a matching dupatta and heels.
4. Satin fabrics material:-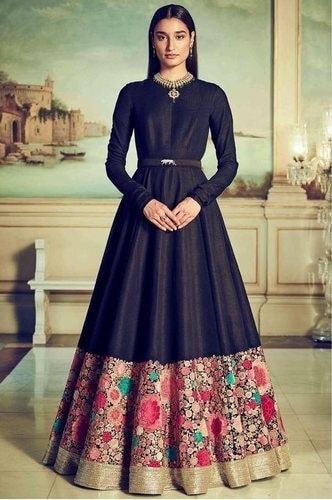 Satin can best be described as universal. You can wear satin in any ethnic wear for any occasions as long you style it well.  This simple sheer and sleek material is very light, elegant and daring. Satin is woven from silk, cotton and synthetic fibers. It has a unique weave and a glossy finish that is different from other weaves. It is very shiny and lustrous, which is perfect for evening events like dates or night festivals.  Vibrant satin sarees may not be common but they are very fashionable and sophisticated. 
5. Crepe fabrics material:-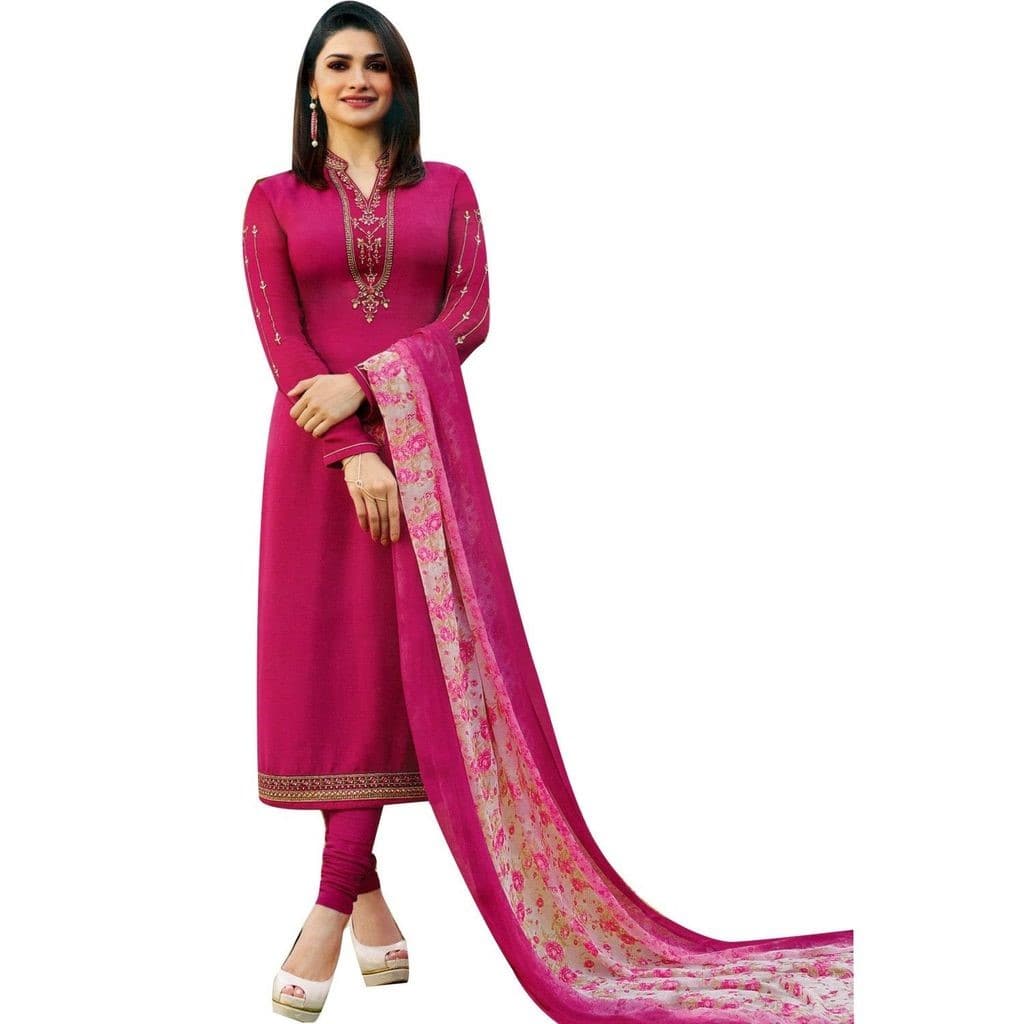 Crepe is a woven material that makes dresses appears flowy. This is the perfect material for a formal outfit. Crepe clothes make you stand out in a crowd.  For some, crepe is unattractive because it appears slightly wrinkled or creased. Designers like it for its tightly woven construction and feel. The grainy texture of crepe allows it o take and retain color well. 
Crepe appears modern and unlike the shimmery look of most fabrics, it has a matte finish.  The graceful drape on crepe is due to the lightweight and stretch of the material. It is perfect for all body types.  The strong characters of outfits made of crepe are caused by the pebbled, creased, grainy and crinkled texture. Even though it looks rough, it has a very smooth feel to it.  For the most part of India, crepe is custom made and constricted from strong spun yarns with a double knit. 
Crepe gives you saree a stylish drape that creates a trendy and sophisticated look for traditional and cultural events.  For most stylists, this material is easy to work with especially when making a saree. It creates a beautiful drape and a royal finish. You can wear it in several ethnic clothing including a lehenga, kurti, and saree dress. 
Final word:- If you are looking to be the center of attention at an event, these materials should be in the list of your materials to choose from. This tightly woven material of these fabrics will stand the test of time.  You can wear them to almost every occasion, which makes them the perfect materials to have in your closet.
Subscribe To Our Newsletter
Join our mailing list to receive the latest updates about the latest trends straight to your inbox